Notables
TC Open match 2Fore vs DeeJay - all square after 18 - 2Fore wins 1st playoff hole to advance.
8 skins won - TeeDub (4), Kirkulese (3), KidsClub (1).
4 dogs won - 2Fore (2), TeeDub (1), Ripzone (1).
Pedro - honorable mention - for going 3-0-0.
DeeJay - honorable mention - for taking 5 points.
Slammers, please introduce yourselves to Rookies: Kirkulese, KeenGolfer, Cloudy, and Pedro.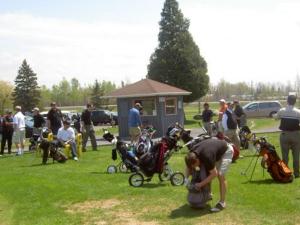 Quotables
Don't let my putting interrupt your conversation!!
What's with the pink golf bag? It was red before ...but I love my pink bag.
I aimed far right. So why did it go far left?
What are you waiting for? Why don't you tee-off?..because you are up, you have honours.
Can you do anything else to play slower?
Doesn't he walk like one of those Disney bears or is it the AW Root bear?.
Sat Jul 5, 2008
---
Summary


WIth clear blue skies, the Slammer Tour played one of Ontario's most picturesque golf courses which winds through evergreens, forest, and sometimes alongside waterways. The course was challenging with fast, tricky greens as the Tour recorded a season's high scoring average. A good golf day was had by all. Some played some great golf.- KC



Stars
Kirkulese (r)
Shot 79 with 2 birds and 3 skins. Took all 3 matches by shooting 6 under his season's average. Defended against all comers and a late charge from the 2nd star. Super round!!
TeeDub
Outstanding round with an 86 with 3 birds, 4 skins and 1 dog shooting 7 under his season's average. TeeDub took his match with the 1st star to the 18th. He moves from the rank of 95 to the top 25. Congrats!!
PingMan
Great effort with a 95 winning all his matches earning 6 points and jumping into the top 20. Well done!!

Onsite Coordinator

Stats

Attendance: 16
Scoring Average: 99
Birdie Average: 0.31
Course Rating: 8.5
Best aspects of course: Good overall condition particularly the greens and the geese.

Kids

Event Fees

ST Member: $39
EG Member: $32
EG Unl. Member: $
UPSETS
DEFENCES
Challenger
Defender
Hole
Challenger
Defender
Hole
TeeDub [

97

]
Turtle [

60

]
12
KeenGolfer (r) [

153

]
Pedro [

57

]
10
Rulz [

26

]
Ripzone [

20

]
14
Turtle [

60

]
Kirkulese (r) [

9

]
11
TeeDub [

97

]
Hacker [

23

]
14
Cloudy (r) [

288

]
Pedro [

57

]
11
Blender [

190

]
KeenGolfer (r) [

153

]
15
Cloudy (r) [

288

]
Blender [

190

]
12
PingMan [

61

]
Billiards [

44

]
16
KidsClub [

45

]
Stevie Ray [

17

]
13
PingMan [

61

]
KidsClub [

45

]
16
Turtle [

60

]
Hacker [

23

]
13
2Fore [

34

]
Ripzone [

20

]
17
Billiards [

44

]
Stevie Ray [

17

]
15
DeeJay [

36

]
Rulz [

26

]
18
KidsClub [

45

]
Billiards [

44

]
16
DeeJay [

36

]
Ripzone [

20

]
18
Blender [

190

]
Pedro [

57

]
16
PingMan [

61

]
Stevie Ray [

17

]
18
Hacker [

23

]
Kirkulese (r) [

9

]
17
2Fore [

34

]
Rulz [

26

]
18
DeeJay [

36

]
2Fore [

34

]
18
TeeDub [

97

]
Kirkulese (r) [

9

]
18
Cloudy (r) [

288

]
KeenGolfer (r) [

153

]
18
INDIVIDUAL PLAYER STATS
Slammer
Score
Birds
Eagles
Dogs
Bones
Skins
Bones
Record
Points
Kirkulese (r)
79
2
0
0
0
3
30
3-0-0
6
PingMan
95
0
0
0
0
0
0
3-0-0
6
Pedro (r)
101
0
0
0
0
0
0
3-0-0
6
DeeJay
92
0
0
0
0
0
0
2-0-1
5
TeeDub
86
3
0
1
20
4
40
2-1-0
4
Rulz
93
0
0
0
0
0
0
2-1-0
4
Stevie Ray
96
0
0
0
0
0
0
2-1-0
4
Blender
105
0
0
0
0
0
0
2-1-0
4
2Fore
97
0
0
2
40
0
0
1-1-1
3
Hacker
91
0
0
0
0
0
0
1-2-0
2
Billiards
99
0
0
0
0
0
0
1-2-0
2
KeenGolfer (r)
119
0
0
0
0
0
0
0-2-1
1
Cloudy (r)
128
0
0
0
0
0
0
0-2-1
1
Ripzone
99
0
0
1
20
0
0
0-3-0
0
KidsClub
98
0
0
0
0
1
10
0-3-0
0
Turtle
105
0
0
0
0
0
0
0-3-0
0
SKINS
HOLE
1
2
3
4
5
6
7
8
9
OUT
10
11
12
13
14
15
16
17
18
IN
TOTAL
SKINS
PAR
4
5
3
4
4
4
3
5
4
36
4
5
4
3
5
3
4
4
4
36
72
TeeDub
6
7
5
4
5
3
2
5
3
40
4
6
4
3
7
6
5
5
6
46
86
4
Kirkulese (r)
5
4
3
5
4
4
4
6
5
40
4
5
5
3
4
3
6
5
4
39
79
3
KidsClub
6
7
5
6
5
5
4
6
5
49
6
7
6
3
7
5
6
4
5
49
98
1
Hacker
4
7
3
6
4
4
3
6
5
42
7
7
4
4
8
3
5
5
6
49
91
0
DeeJay
5
5
4
6
5
5
3
5
5
43
5
9
6
3
5
4
5
7
5
49
92
0
Rulz
4
6
4
5
7
5
4
5
4
44
5
5
6
3
7
6
7
5
5
49
93
0
PingMan
5
7
3
5
5
5
3
5
5
43
7
6
7
4
8
4
5
6
5
52
95
0
Stevie Ray
7
5
5
5
4
5
3
6
5
45
5
6
5
3
8
4
7
7
6
51
96
0
2Fore
4
7
3
5
5
8
3
5
4
44
6
6
8
3
9
3
6
5
7
53
97
0
Billiards
5
6
5
6
8
5
4
6
4
49
5
8
5
3
9
4
6
5
5
50
99
0
Ripzone
5
5
3
6
5
6
5
6
4
45
8
8
6
5
8
3
5
5
6
54
99
0
Pedro (r)
4
7
3
8
5
5
3
6
5
46
5
7
9
4
7
5
6
5
7
55
101
0
Blender
6
9
3
5
8
6
4
5
6
52
6
6
6
4
7
5
7
5
7
53
105
0
Turtle
6
7
6
7
5
5
4
7
5
52
6
6
5
5
9
5
6
6
5
53
105
0
KeenGolfer (r)
5
8
3
9
7
7
4
8
6
57
8
7
6
6
8
6
7
6
8
62
119
0
Cloudy (r)
9
9
8
7
9
6
5
8
5
66
7
8
9
6
8
5
7
5
7
62
128
0
TOTAL
0
1
0
1
0
1
1
0
1
0
0
0
0
1
0
0
1
1
8
Legend
E
Eagle or Better
B
Birdie
P
Par
G
Bogey or Greater
C
Cut-off birdie