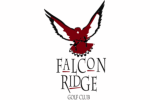 Notables
HM: StevieRay goes 2-1, pushes IM to the 17th before succumbing to her charm and takes his 4th dog of the year to tie for the lead in that stat.
HM: BigGuy also goes 2-1 in winning his first matches of the year.
HM: To all the Slammers today for not complaining about what was abysmal weather conditions.
DOGGIES: Four par 3s today with Woodsy taking of the 2 dogs leaving StevieRay and IronMaiden to split the others.
SKINS: Four skins registered on the day, 1 with the only birdie of the day and 3 collected with pars. Two for Woodsy and one each to IronMaiden and Lucky.
Thanks to Woodsy for handling the Dogs and to IronMaiden for managing the Skins.
NOTABLE: Rookie Bill Mohan decides at the last minute to join us today. It takes to the 11th hole, but after listening to his Arnold Schwarzenegger impersonation Woodsy christens Bill with his new Slammer name "Terminator."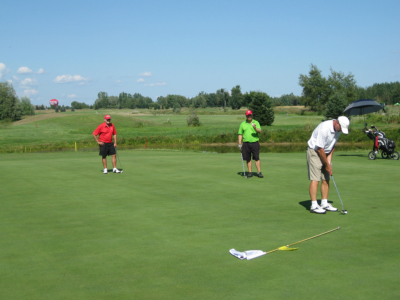 Quotables
"That par was so ugly we didn't even know you had it!"
"I can't even see the group behind the group behind us."
"Man, that's one weird cloud"....(response)"It's not that weird."
"Who said the wind was dying down?"
Port-a-potty is good place to light a cigar..."But isn't it full of Methane?"..."That would be good for Slammer folklore."...."It would be a s....y way to go."
"Is there no fairway on this hole?"
As hailstones bounce all around us....."Only Slammers would play in this."......"Of course, look around you!"
Wed Apr 4, 2012
---
Summary


Twas the day before the Masters and the Slammers were getting frumpy. There were twelve at the Ridge but only one was a real Grumpy. A Sutty, a Woodsy and a Papa would appear. All out for their very first Slammer event of the year. BigGuy challenged Grumpy and a Malone for the day. While BackFlash and two Irons took on the mighty Stevie Ray. Rookie Little Billy Mohan chose to make his entry later. It took him only eleven holes to earn the name "Terminator." Woodsy got Lucky and both dreampt themselves a hero. Especially after they defeated poor old PointZero! With the heavy winds, driving rain, low temperature and hail, Falcon Ridge bared it teeth today. 12 hearty Slammers rose to the challenge though and would not be denied their day of golf despite the difficulty the conditions laden us with. Bring on the warm weather.



Stars
Woodsy
Woodsy plays the course like the sun is shining and the temperature is in the mid 80s. He posts the only birdie of the day, takes 2 dogs and 2 skins. Unfazed by the weather or the state of his game he finds the time to christen Bill Mohan with his new Slammer name "Terminator." Making short work of PointZero, Lucky and Terminator, he is most certainly the 1st star of the day.
IronMaiden
Proving once again that she is at no disadvantage when playing with the boys, IronMaiden takes all 3 of her matches and ups her Slammer leading total wins to 10. Along the way she picks up a skin and a dog for good measure.
Lucky
Not distracted by the OC duties or the early potential of being "10-holed" by Woodsy, Lucky wins two of his matches. He saves his best swings of the day for the 18th, holding on to beat PointZero and move into the ranks of the top 10. He also puts a skin up on his stat sheet.

Onsite Coordinator

Stats

Attendance: 12
Scoring Average: 98
Birdie Average: 0.08
Course Rating: 7.5
Best aspects of course: Fairways had some roll and greens were smooth.

Kids

Event Fees

ST Member: $42
EG Member: $35
EG Unl. Member: $29

Make a Wish Total
UPSETS
DEFENCES
Challenger
Defender
Hole
Challenger
Defender
Hole
Woodsy [

11

]
PointZero [

3

]
12
Terminator (r) [

507

]
Woodsy [

11

]
12
BigGuy [

85

]
Papa Malone [

71

]
16
Lucky [

37

]
Woodsy [

11

]
13
Sutty [

111

]
Papa Malone [

71

]
16
IronMan [

189

]
IronMaiden [

44

]
14
BigGuy [

85

]
Grumpy [

76

]
16
IronMan [

189

]
Stevie Ray [

29

]
15
Sutty [

111

]
Grumpy [

76

]
16
BackFlash [

74

]
Stevie Ray [

29

]
16
IronMaiden [

44

]
Stevie Ray [

29

]
17
IronMan [

189

]
BackFlash [

74

]
16
Terminator (r) [

507

]
PointZero [

3

]
18
Terminator (r) [

507

]
Lucky [

37

]
16
Lucky [

37

]
PointZero [

3

]
18
BackFlash [

74

]
IronMaiden [

44

]
16
Sutty [

111

]
BigGuy [

85

]
18
Grumpy [

76

]
Papa Malone [

71

]
18
INDIVIDUAL PLAYER STATS
Slammer
Score
Birds
Eagles
Dogs
Bones
Skins
Bones
Record
Points
Woodsy
77
1
0
2
30
2
30
3-0-0
6
IronMaiden
91
0
0
1
15
1
15
3-0-0
6
Sutty
101
0
0
0
0
0
0
3-0-0
6
Stevie Ray
94
0
0
1
15
0
0
2-1-0
4
Lucky
93
0
0
0
0
1
15
2-1-0
4
BigGuy
102
0
0
0
0
0
0
2-1-0
4
Terminator (r)
95
0
0
0
0
0
0
1-2-0
2
BackFlash
98
0
0
0
0
0
0
1-2-0
2
Grumpy
108
0
0
0
0
0
0
0-2-1
1
Papa Malone
108
0
0
0
0
0
0
0-2-1
1
PointZero
96
0
0
0
0
0
0
0-3-0
0
IronMan
107
0
0
0
0
0
0
0-3-0
0
SKINS
HOLE
1
2
3
4
5
6
7
8
9
OUT
10
11
12
13
14
15
16
17
18
IN
TOTAL
SKINS
PAR
4
4
4
4
3
4
5
5
3
36
4
4
4
4
3
5
3
5
4
36
72
Woodsy
4
4
3
5
4
5
5
5
3
38
5
5
5
4
3
5
3
5
4
39
77
2
IronMaiden
6
5
5
5
3
6
5
6
3
44
8
4
7
4
4
5
4
6
5
47
91
1
Lucky
5
6
5
6
4
6
5
7
4
48
4
4
6
5
4
5
4
8
5
45
93
1
Stevie Ray
6
4
6
6
4
5
6
7
3
47
7
6
5
4
3
6
3
7
6
47
94
0
Terminator (r)
5
4
5
7
4
5
5
6
4
45
7
6
6
5
5
6
5
6
4
50
95
0
PointZero
5
4
5
8
4
8
5
6
4
49
5
5
7
4
3
7
3
7
6
47
96
0
BackFlash
7
4
7
8
4
5
7
5
4
51
7
6
4
4
5
5
4
7
5
47
98
0
Sutty
5
5
6
8
5
6
8
6
3
52
7
5
6
6
4
7
3
7
4
49
101
0
BigGuy
5
4
7
5
6
5
6
7
5
50
5
8
4
6
4
8
3
8
6
52
102
0
IronMan
4
6
5
6
5
5
5
8
5
49
6
8
8
6
5
8
4
7
6
58
107
0
Grumpy
5
5
5
7
4
8
6
7
4
51
7
7
8
7
4
8
4
8
4
57
108
0
Papa Malone
5
4
7
5
4
6
6
7
5
49
7
8
8
6
6
7
5
6
6
59
108
0
TOTAL
0
0
1
0
1
0
0
0
0
1
0
0
0
0
0
0
1
0
4
Legend
E
Eagle or Better
B
Birdie
P
Par
G
Bogey or Greater
C
Cut-off birdie