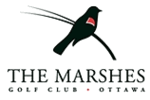 Notables
Welcome to first timer and rookie Irons who bags his first skin!
TC "A" MATCH UPDATE: TadPole advances to the third round with the win over DJD
NOTABLE: Rexall cut and painted each tee box marker out of birch logs last winter
DOGGIES: Only 5 doggies on this 6-6-6 course with 2 going to spinglakes (#3, 33ft & #8, 6ft) and one each to PizzaMan (#5, 15ft), Bookie (#12, 75ft !!) and Muirsy (#17, 6ft) @ 11 bones each
SKINS: A total of six skins with one each to PizzaMan, TadPole, KaDaver, Irons, Shades & Muirsy @ 9 bones a piece
Thank you to DJD and PizzaMan for helping out with the doggie and skins duties today, much appreciated!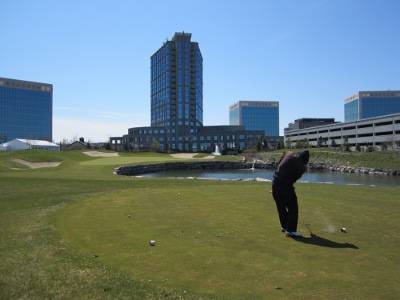 Quotables
This still hurts guy! ...What, your back?...No, the horse shoe up my ass!
Sun Jul 1, 2012
---
Summary


OH Canada! A festive Slammer event held at the Marshes for the first time on July 1st and what a treat it was for all. This Robert Trent Jones design beauty never disappoints. The staff are always ready to accomodate and the venue cannot be beat. Wally and Chubs were on the course all day marshalling but I think they just wanted a prime seat for this Slammer event...as they sat and watched approach shots and putts ....and some duffs....as the Slammers made their way around the course today. And we couldn't help but think of Rexall as each tee box, blues, whites & reds, were marked with his special touch. Happy Canada Day to all in Slammerland!



Stars
springlakes
springlakes is always spelled in lower case....very unassuming....but today he just couldn't help but stand out as our first star rocks it on the course going undefeated as he defended his ranks against Muirsy and Irons. With 1 skinless bird and two doggies, springlakes grabs star honours for the second time is as many days. Congrats!
TadPole
TadPole also has a great day out there going 3-0 for 6 points as he takes KaDaver and Popeye's ranks and defends against DJD....which was also a win for the second round of the TC A's. One birdie was good enough to take 1 skinnie home...Well done and good luck in the next round!
Shades
Shades is always a force and even though (to his surprise) his SA had re-classified him in the A's, Shades had no problem with those blue tees and handily takes IronMaiden and Bookies rank moving 40+ spots up the Slammer totem pole. Two wins and a tie with PizzaMan, 5 points, 1 bird, 1 skin...Nicely done!

Onsite Coordinator

Stats

Attendance: 11
Scoring Average: 92
Birdie Average: 0.73
Course Rating: 9
Best aspects of course: Clubhouse, course conditions, layout, friendly course marshalls

Kids

Event Fees

ST Member: $79
EG Member: $69
EG Unl. Member: $60
UPSETS
DEFENCES
Challenger
Defender
Hole
Challenger
Defender
Hole
TadPole [

34

]
KaDaver [

18

]
15
DJD [

39

]
TadPole [

34

]
14
PizzaMan [

54

]
Bookie [

51

]
16
Irons (r) [

Unr

]
springlakes [

28

]
15
Shades [

97

]
Bookie [

51

]
16
Irons (r) [

Unr

]
Muirsy (r) [

104

]
15
Popeye [

23

]
KaDaver [

18

]
16
IronMaiden [

58

]
PizzaMan [

54

]
16
Shades [

97

]
IronMaiden [

58

]
17
DJD [

39

]
Popeye [

23

]
16
TadPole [

34

]
Popeye [

23

]
17
Muirsy (r) [

104

]
springlakes [

28

]
16
IronMaiden [

58

]
Bookie [

51

]
18
Shades [

97

]
PizzaMan [

54

]
18
DJD [

39

]
KaDaver [

18

]
18
INDIVIDUAL PLAYER STATS
Slammer
Score
Birds
Eagles
Dogs
Bones
Skins
Bones
Record
Points
TadPole
88
1
0
0
0
1
9
3-0-0
6
PizzaMan
91
2
0
1
11
1
9
2-0-1
5
Shades
92
1
0
0
0
1
9
2-0-1
5
springlakes
83
1
0
2
22
0
0
2-0-0
4
Popeye
90
0
0
0
0
0
0
2-1-0
4
Muirsy (r)
86
1
0
1
11
1
9
1-1-0
2
IronMaiden
99
0
0
0
0
0
0
1-2-0
2
KaDaver
91
0
0
0
0
1
9
0-2-1
1
DJD
95
0
0
0
0
0
0
0-2-1
1
Bookie
102
0
0
1
11
0
0
0-3-0
0
Irons (r)
91
2
0
0
0
1
9
0-2-0
0
SKINS
HOLE
1
2
3
4
5
6
7
8
9
OUT
10
11
12
13
14
15
16
17
18
IN
TOTAL
SKINS
PAR
4
5
3
5
3
4
4
3
5
36
5
4
3
4
5
3
5
3
4
36
72
Muirsy (r)
5
6
4
6
4
4
5
4
5
43
8
4
3
4
6
3
8
2
5
43
86
1
TadPole
4
7
4
5
2
7
6
3
5
43
6
4
4
5
5
4
8
4
5
45
88
1
Irons (r)
5
7
4
6
3
5
7
4
6
47
4
5
4
3
6
4
8
4
6
44
91
1
KaDaver
5
6
4
6
3
5
4
5
6
44
5
5
5
5
7
5
7
4
4
47
91
1
PizzaMan
4
8
4
4
3
6
5
3
8
45
7
5
4
3
7
4
6
4
6
46
91
1
Shades
4
6
5
8
4
5
5
5
7
49
5
4
6
4
4
4
6
3
7
43
92
1
springlakes
5
7
3
5
3
6
5
3
5
42
5
4
6
3
6
3
5
3
6
41
83
0
Popeye
4
8
4
6
3
4
6
4
8
47
5
5
4
5
5
3
5
4
7
43
90
0
DJD
5
8
3
5
5
4
6
6
6
48
8
5
5
4
6
3
7
5
4
47
95
0
IronMaiden
4
7
4
6
3
7
6
4
6
47
7
6
4
5
7
3
8
4
8
52
99
0
Bookie
8
8
4
6
4
5
5
3
7
50
7
5
3
6
8
4
8
3
8
52
102
0
TOTAL
0
0
0
1
1
0
1
0
0
1
0
0
0
1
0
0
1
0
6
Legend
E
Eagle or Better
B
Birdie
P
Par
G
Bogey or Greater
C
Cut-off birdie