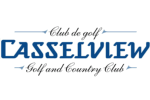 Notables
This OC wants to send a hearty (includes all the other 17 words in the thesaurus).THANK YOU to two guys, who although they didn't volunteer, did a fantastic job at stepping in when they were voluntold. SRR & pZ, MERCI!
pZ is singing the Blues – SOLO today. However at the other end of the fairway, his putter really worked, as he had only 12 putts on the back nine. (That means the other 15 of us gave the kids over $25?).
Big TEE avoids joining Bulldog's club. I invite all rookies to find out what THAT is. By the way when you are out there investigating ask Boomer about his missed birdie putt to 10 hole the rookie.
Honourable Mentions today go out to SpoonHead for playing relatively BEST!... High Five(one doggy), upsets Boomer and moves up HIGH enough to see his name in the Ottawa Sun on Tuesday by cracking the top 30...Grumpy for his attempt at emulating Lucky yesterday (won the most money – but only 55% of Lucky's total) with 2 dogs and a par skin... The other HM goes out to Rulz, who was also undefeated.
Speaking about the Commish – he is today's photo master, so be sure to Facebook and see his pictures. He also continued the new trend of putting the presentations on video. And you twitters can follow along at home as we move towards having a TWEET master.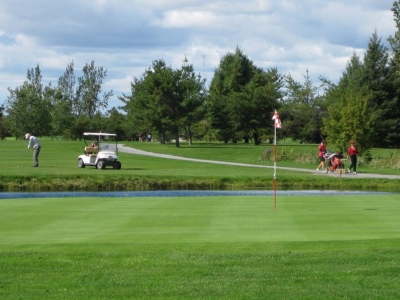 Quotables
"I hit the cart girl" "You must have REALLY wanted a drink."
"I've got that shot in my arsenal, I just don't know when I'm going to use it."
"You had a bad front, so you better have a great back."
"Good ball! Wife of Ottawa Fern."
"Might the T be for TREE?"
"I won my dog because my brother three-jacked #16." "I won my second dog because YOU DID on 7!"
"What is a three jack?"
Sun Apr 8, 2012
---
Summary


Today is the fifteenth event of this 2012 season, and the tour returns home for the third time. Tis true that Casselview is the official home course of the Slammer Tour. Something was missing though! No Iron Maiden, who has been to 2 of every 3 events this season. She is never far away, as her EASTER chocolates were sent to her Slamming Family. Speaking of the Slammettes, two of them made their '12 debut. Welcome back to Juice and Sunshine. Welcome also to newcomers Tazman and Ken Lacroix playing in their first event. KL is looking into his nickname, but I am thinking "The Cross", Hey Bubba65 that far right column got a little closer to you being the leader today – where is my brother Charlie? {shoulder injury!}



Stars
PointZero
Three successful defences to hold onto #7, a birdie for a skin and a write-up to the left. After last Friday's event, this OC is happy to see you back!
Wee Willie
The only 3-0 today to include an upset, when he took down SpoonHead 3 and 2. Hey WW, and that was without a warm-up. Putting shoes on and hitting first tee shot only 5 minutes apart.
Stevie Ray
Three successful defences to hold onto #35, add a dog on the hole that he watches BRO pick up his tee in disgust, to move one closer {career 3rd/4th}. Now only 18 behind in a career that has the broken handed younger miss a season.

Onsite Coordinator

Stats

Attendance: 16
Scoring Average: 98
Birdie Average: 0.25
Course Rating: 8
Best aspects of course: Dry and the greens have been lauded so often!

Kids

Event Fees

ST Member: $47
EG Member: $39
EG Unl. Member: $34

Make a Wish Total
UPSETS
DEFENCES
Challenger
Defender
Hole
Challenger
Defender
Hole
TazMan (r) [

Unr

]
Guinness [

Unr

]
12
BigTee (r) [

51

]
Boomer [

28

]
11
Wee Willie [

69

]
SpoonHead [

58

]
16
Guinness [

Unr

]
Eeyore [

43

]
12
HighFive (r) [

42

]
Boomer [

28

]
18
BigTee (r) [

51

]
PointZero [

7

]
12
BigTee (r) [

51

]
HighFive (r) [

42

]
12
Princess [

121

]
Stevie Ray [

35

]
13
FrenchHooligan [

88

]
Stevie Ray [

35

]
13
Juice [

75

]
Wee Willie [

69

]
14
Boomer [

28

]
PointZero [

7

]
14
Eeyore [

43

]
Rulz [

17

]
15
Grumpy [

85

]
Stevie Ray [

35

]
15
SunShine [

89

]
Wee Willie [

69

]
15
TazMan (r) [

Unr

]
Eeyore [

43

]
16
FrenchHooligan [

88

]
Grumpy [

85

]
16
HighFive (r) [

42

]
PointZero [

7

]
17
SunShine [

89

]
Juice [

75

]
17
Juice [

75

]
SpoonHead [

58

]
17
SunShine [

89

]
SpoonHead [

58

]
17
Princess [

121

]
Grumpy [

85

]
18
Princess [

121

]
FrenchHooligan [

88

]
18
INDIVIDUAL PLAYER STATS
Slammer
Score
Birds
Eagles
Dogs
Bones
Skins
Bones
Record
Points
Stevie Ray
89
0
0
1
20
0
0
3-0-0
6
PointZero
84
1
0
0
0
1
10
3-0-0
6
Wee Willie
93
0
0
0
0
0
0
3-0-0
6
Grumpy
106
0
0
2
40
1
10
2-1-0
4
HighFive (r)
90
1
0
1
20
1
10
2-1-0
4
SpoonHead
94
0
0
0
0
1
10
2-1-0
4
Eeyore
90
0
0
0
0
0
0
2-1-0
4
Rulz
84
1
0
0
0
1
10
1-0-0
2
TazMan (r)
95
1
0
0
0
1
10
1-1-0
2
Juice
99
0
0
0
0
1
10
1-2-0
2
Boomer
92
0
0
0
0
0
0
1-2-0
2
Princess
111
0
0
0
0
0
0
0-2-1
1
FrenchHooligan
115
0
0
0
0
0
0
0-2-1
1
SunShine
100
0
0
0
0
0
0
0-3-0
0
Guinness
109
0
0
0
0
0
0
0-2-0
0
BigTee (r)
115
0
0
0
0
0
0
0-3-0
0
SKINS
HOLE
1
2
3
4
5
6
7
8
9
OUT
10
11
12
13
14
15
16
17
18
IN
TOTAL
SKINS
PAR
5
4
3
4
3
5
3
4
5
36
4
4
5
4
4
4
3
4
4
36
72
Rulz
6
4
3
4
4
5
4
4
6
40
3
6
6
5
4
5
4
5
6
44
84
1
PointZero
6
4
3
5
3
5
4
8
6
44
4
5
6
4
4
5
3
3
6
40
84
1
HighFive (r)
6
4
3
7
2
7
4
5
6
44
5
5
5
6
5
4
6
5
5
46
90
1
SpoonHead
8
5
4
5
4
6
4
5
6
47
5
7
6
5
4
6
5
5
4
47
94
1
TazMan (r)
4
6
4
4
4
6
5
6
6
45
6
6
6
4
5
6
6
6
5
50
95
1
Juice
5
5
4
6
3
8
5
5
5
46
7
4
5
7
5
7
3
7
8
53
99
1
Grumpy
5
7
3
4
4
8
3
7
7
48
6
8
7
5
6
7
5
7
7
58
106
1
Stevie Ray
6
4
3
5
3
6
4
5
8
44
5
5
7
4
5
5
3
5
6
45
89
0
Eeyore
6
5
4
4
3
6
4
6
6
44
6
7
5
5
4
5
4
5
5
46
90
0
Boomer
5
5
3
6
4
6
4
6
6
45
5
5
6
5
6
4
5
5
6
47
92
0
Wee Willie
5
5
4
5
4
7
4
4
5
43
6
6
5
5
4
6
5
5
8
50
93
0
Guinness
8
7
5
7
4
7
4
6
8
56
6
7
8
4
7
7
4
4
6
53
109
0
Princess
8
8
5
8
6
6
5
5
7
58
6
5
6
5
6
6
6
5
8
53
111
0
FrenchHooligan
8
6
4
8
5
8
8
5
7
59
5
8
6
5
6
8
8
5
5
56
115
0
BigTee (r)
6
7
5
8
5
8
4
7
8
58
4
6
8
6
5
7
7
6
8
57
115
0
TOTAL
1
0
0
0
1
0
1
0
0
1
1
0
0
0
0
0
1
1
7
Legend
E
Eagle or Better
B
Birdie
P
Par
G
Bogey or Greater
C
Cut-off birdie