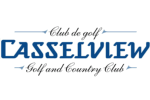 Notables
Rare appearance from BullDog sees him jump up to the top-15...
Spooner gets a dog in his first ever event - will he keep that pace up?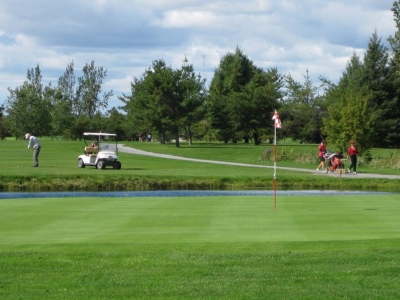 Quotables
It would appear that summer has arrived!
(On #8) Nice putt, Grumpy (26' for par) -- nicer putt, BullDog! (36' for par)
Maybe someone should tell that new guy that tees are reusable!!!!
Sat May 19, 2012
---
Summary


Summer showed itself today, showering a hearty group of sixteen slammers with all the sun's intensity. A hint of something to come, everyone loved it but maybe were keenly anticipating the post-game pop and ribs!



Stars
FrenchHooligan
Winning all three matches for the first time this year combined with a bird and two skins (and shooting 7 shots below his scoring average - solid!) earns the shining star of the day for FrenchHooligan.
Cuba
Cuba had a stellar day, going undefeated and netted himself a bird and a skin... well done.
BearCat
One of the nicest guys out on the course today won a match, a skin and TWO dogs to walk away with a pile of bones when all was said and done. One can only hope the trunk was big enough!!!

Onsite Coordinator

Stats

Attendance: 16
Scoring Average: 98
Birdie Average: 0.25
Course Rating: 8.5
Best aspects of course: Quick greens were in excellent shape.

Kids

Event Fees

ST Member: $47
EG Member: $39
EG Unl. Member: $34

Make a Wish Total
UPSETS
DEFENCES
Challenger
Defender
Hole
Challenger
Defender
Hole
BullDog [

77

]
Grumpy [

13

]
11
Eager Beaver (r) [

534

]
FrenchHooligan [

61

]
11
BullDog [

77

]
BearCat [

63

]
12
Professor [

231

]
Eeyore [

98

]
12
BullDog [

77

]
TJ [

11

]
15
Eager Beaver (r) [

534

]
SunShine [

127

]
12
Spooner (r) [

Unr

]
Professor [

231

]
16
Spooner (r) [

Unr

]
Eeyore [

98

]
13
Whiskey (r) [

102

]
Eeyore [

98

]
18
The Game [

66

]
Crenshaw [

2

]
13
BearCat [

63

]
Grumpy [

13

]
18
Princess [

155

]
FrenchHooligan [

61

]
13
Eager Beaver (r) [

534

]
Princess [

155

]
13
Spooner (r) [

Unr

]
Whiskey (r) [

102

]
13
Professor [

231

]
Whiskey (r) [

102

]
13
The Game [

66

]
Cuba [

27

]
14
Princess [

155

]
SunShine [

127

]
14
Stiff [

Unr

]
Cuba [

27

]
15
Grumpy [

13

]
TJ [

11

]
16
SunShine [

127

]
FrenchHooligan [

61

]
17
Cuba [

27

]
Crenshaw [

2

]
18
BearCat [

63

]
TJ [

11

]
18
Stiff [

Unr

]
The Game [

66

]
18
INDIVIDUAL PLAYER STATS
Slammer
Score
Birds
Eagles
Dogs
Bones
Skins
Bones
Record
Points
FrenchHooligan
92
1
0
0
0
2
28
3-0-0
6
BullDog
89
0
0
0
0
0
0
3-0-0
6
Whiskey (r)
91
0
0
0
0
0
0
3-0-0
6
Cuba
84
1
0
0
0
1
14
2-0-1
5
Eeyore
89
0
0
0
0
0
0
2-1-0
4
TJ
94
0
0
0
0
0
0
2-1-0
4
SunShine
99
0
0
0
0
0
0
2-1-0
4
Crenshaw
84
0
0
0
0
1
14
1-0-1
3
BearCat
97
1
0
2
40
1
14
1-2-0
2
Spooner (r)
102
0
0
1
20
0
0
1-2-0
2
Princess
108
0
0
0
0
0
0
1-2-0
2
Stiff
95
0
0
0
0
0
0
0-1-1
1
The Game
99
0
0
0
0
0
0
0-2-1
1
Professor
106
1
0
1
20
0
0
0-3-0
0
Grumpy
102
0
0
0
0
0
0
0-3-0
0
Eager Beaver (r)
137
0
0
0
0
0
0
0-3-0
0
SKINS
HOLE
1
2
3
4
5
6
7
8
9
OUT
10
11
12
13
14
15
16
17
18
IN
TOTAL
SKINS
PAR
5
4
3
4
3
5
3
4
5
36
4
4
5
4
4
4
3
4
4
36
72
FrenchHooligan
5
4
4
7
4
6
5
5
4
44
6
6
8
4
5
7
3
5
4
48
92
2
Crenshaw
5
4
3
6
3
5
5
4
6
41
5
7
6
4
4
4
3
5
5
43
84
1
Cuba
5
4
4
5
4
6
4
4
6
42
4
6
7
4
3
5
4
4
5
42
84
1
BearCat
7
6
4
7
6
6
3
6
7
52
4
5
6
4
5
6
2
7
6
45
97
1
Eeyore
6
5
4
4
3
7
3
4
5
41
5
7
5
5
6
5
4
5
6
48
89
0
BullDog
6
5
3
5
4
5
3
4
8
43
4
5
5
4
7
6
3
5
7
46
89
0
Whiskey (r)
5
4
5
4
3
7
4
7
5
44
5
6
6
4
6
7
4
4
5
47
91
0
TJ
8
4
3
5
3
6
4
4
7
44
6
5
6
4
8
7
4
5
5
50
94
0
Stiff
6
4
4
4
4
7
3
7
8
47
5
5
7
6
4
6
3
7
5
48
95
0
The Game
6
4
3
6
4
6
5
5
8
47
7
5
6
5
5
5
4
7
8
52
99
0
SunShine
5
6
5
5
4
7
5
5
8
50
5
6
6
5
5
5
5
5
7
49
99
0
Spooner (r)
8
5
6
6
3
7
3
5
8
51
5
7
7
7
6
5
3
5
6
51
102
0
Grumpy
7
6
4
6
5
8
5
4
6
51
5
7
6
6
6
5
4
6
6
51
102
0
Princess
7
5
3
8
6
8
6
5
7
55
7
6
7
5
6
6
5
4
7
53
108
0
TOTAL
0
0
0
0
0
0
0
0
1
0
0
0
0
1
1
1
0
1
5
Legend
E
Eagle or Better
B
Birdie
P
Par
G
Bogey or Greater
C
Cut-off birdie