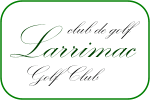 Notables
NOTABLE: ProZee backs away from his 3rd shot on the par 5 17th to shake all the voices out of his head. Seems like it was good idea as he subsequently hits a chip shot that lands on the green, half way to the hole, and rolls, ever so sweetly, into the hole for eagle!
DOGGIES: Four par 3s today with only three ceding doggies. PacMan has a great day claiming two (#9 at 12ft & #10 at 34ft) and Lucky closes it out (#18 at 15ft)@ $11.00 each with $2.00 for the kids
SKINS: There were a total of seven skins with Gazzif cashing in two (#3 & #12), and singles going to T-Bone (#1), Lethal (#2), Lucky (#4), Bubba (#13) & ProZee (#17) @ 5 bones a piece
A big thanks to Gazzif for handling the Doggies and T-Bone for jumping in to score the skins. Great job gentlemen!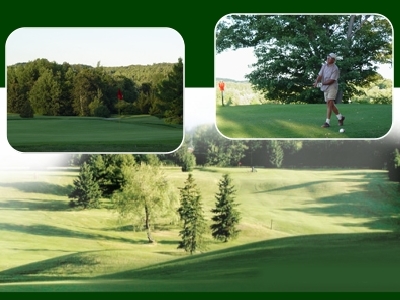 Quotables
If there weren't that many 3 putts out there today then how come the kids picked up $16.00 from only 7 golfers!
You really are Lethal!
Thu Jul 5, 2012
---
Summary


Today's outing took us to Larrimac, a course that most of the Slammers were playing for the very first time. When one looks at the score card and course layout one is tempted, as were those in attendance today, to dismiss this course as a short little trek that will be ripe for the pickings. Well, when the last stroke was played there was unanimity that the yardage belies the true degree of difficulty posed by this stretch of fairways. Between the hills, unseen hazards and small greens, this course offers a very unique challenge. Just check out the course rating (69.2) and slope (124). Everyone was in agreement that it is a course worth playing again.



Stars
T-Bone
Starting out with a birdie on the first hole, which holds up for the first skin of the day's outing, T-Bone goes well below his scoring average and convincingly tallies 3 wins to claim star numero uno for the day.
ProZee
Stalking the Slammer schedule as he desperately tries to get in the top ten for Team East's Commish's Cup, ProZee signals mission accomplished as he finally gets Lucky on the 17th. He does it with high drama by chipping in for eagle to close the books on their match. Posting 1 win and 1 tie and using his eagle to count a skin, ProZee earns the second star honours.

Onsite Coordinator

Stats

Attendance: 7
Scoring Average: 90
Birdie Average: 0.43
Course Rating: 8
Best aspects of course: Fairways

Kids

Event Fees

ST Member: $36
EG Member: $31
EG Unl. Member: $26

Make a Wish Total
UPSETS
DEFENCES
Challenger
Defender
Hole
Challenger
Defender
Hole
T-Bone [

93

]
Bubba [

65

]
16
PacMan [

144

]
Bubba [

65

]
14
ProZee [

27

]
Lucky [

10

]
17
PacMan [

144

]
T-Bone [

93

]
14
T-Bone [

93

]
Gazzif [

92

]
18
Lethal (r) [

16

]
Lucky [

10

]
16
PacMan [

144

]
Gazzif [

92

]
16
Gazzif [

92

]
Bubba [

65

]
18
ProZee [

27

]
Lethal (r) [

16

]
18
INDIVIDUAL PLAYER STATS
Slammer
Score
Birds
Eagles
Dogs
Bones
Skins
Bones
Record
Points
T-Bone
91
1
0
0
0
1
5
3-0-0
6
Bubba
92
0
0
0
0
1
5
2-1-0
4
ProZee
83
0
1
0
0
1
5
1-0-1
3
Lucky
83
0
0
1
11
1
5
1-1-0
2
Gazzif
95
1
0
0
0
2
10
1-2-0
2
Lethal (r)
84
1
0
0
0
1
5
0-1-1
1
PacMan
103
0
0
2
22
0
0
0-3-0
0
SKINS
HOLE
1
2
3
4
5
6
7
8
9
OUT
10
11
12
13
14
15
16
17
18
IN
TOTAL
SKINS
PAR
4
4
3
4
4
4
4
5
3
35
3
4
4
4
4
4
4
5
3
35
70
Gazzif
8
5
3
5
5
5
4
7
3
45
5
5
3
6
7
8
5
6
5
50
95
2
ProZee
5
4
6
4
4
7
5
5
4
44
3
4
4
6
4
4
6
3
5
39
83
1
Lucky
4
5
6
5
4
4
4
6
3
41
4
4
5
7
5
4
5
5
3
42
83
1
Lethal (r)
5
3
4
6
5
5
5
5
3
41
5
5
5
5
5
4
5
6
3
43
84
1
T-Bone
3
6
6
6
4
5
6
5
4
45
4
4
5
5
4
7
5
8
4
46
91
1
Bubba
6
5
6
4
4
6
5
6
4
46
5
5
5
4
5
8
6
5
3
46
92
1
PacMan
4
6
5
7
6
7
6
6
3
50
3
8
6
6
6
5
5
8
6
53
103
0
TOTAL
1
1
1
0
0
1
0
0
0
0
0
1
1
0
0
0
1
0
7
Legend
E
Eagle or Better
B
Birdie
P
Par
G
Bogey or Greater
C
Cut-off birdie