About our Sponsor
At Combat™ Hockey, your satisfaction is our number one goal.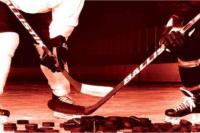 The Combat Hockey Line Up
One-Piece Sticks
Blades
Shafts
Goalie Sticks
Goalie Gear
Gloves
Pants
Bags
Apparel
And we dedicate every day to making the following commitments to you:
To provide prompt, professional and courteous customer service.
To supply the industries "best value" in a durable composite hockey stick product that enhances the playing performance of both recreational and professional hockey players.
To provide useful and valuable information to hockey players in an effort to assist them in selecting the right stick and, in turn, improve their playing performance.
To provide the industry's best replacement warranty against breakage.
To be 100% dedicated to improving our product on an ongoing basis so that the end user can benefit from our advances in composite hockey stick technologies.
Combat Hockey gear is available at these great stores: