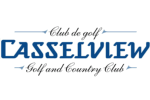 Notables
TC-B match saw XTour advance over Shorts
TC-C match saw Turtle advance over Shorts
DOGGIES: 4 doggies SlapShot on hole #3(15'), ProZee on hole #5(8'), Turtle on hole #7(20'), and XTour on hole #16(10') each dog is 20 bones.
SKINS: A total of 3 skins today, Muirsy (bird on #2), GreenReader (bird #9), and Pouf (bird #18) each skin is worth 26 bones.
Thank you to Lucky for taking care of the skin duties and Hacker for taking care of the doggie duties.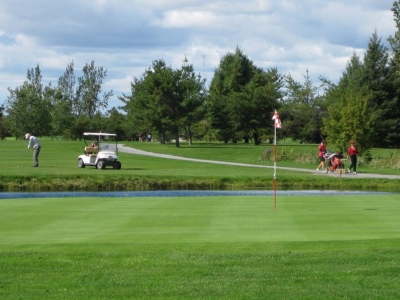 Quotables
I was leaking oil on the back but kept it together for the wins.
Sat Jun 9, 2012
---
Summary


Nice to have an 8:30 tee time on a Saturday. From the comments on the 19th hole I look forward to some more early weekend starts. A round of golf and you still have the good part of the day left to enjoy.



Stars
GreenReader (r)
GreenReader had a record of 3-0 beating SlapShot 6 and 5, Pouf 5 and 4, and Muirsy 5 and 4. GreenReader had 1 bird that was good for a skin. Congratulations!
Pouf (r)
Pouf, in his first ever Slammer event, had a record of 2-1 beating SlapShot and Muirsy on the 18th hole. Pouf also had 1 bird that was good for a skin. Welcome to the Slammer tour Pouf and Congratulations!
Hacker
Hacker had a record of 3-0 beating Shorts 4 and 2, Turtle 2 and 1, and XTour 2 and 1. Hacker had 2 birdies but they were both cut off. Congratulations!

Onsite Coordinator

Stats

Attendance: 16
Scoring Average: 89
Birdie Average: 0.5
Course Rating: 9
Best aspects of course: The greens were fast and true today. Hats off to the greens keeper.

Kids

Event Fees

ST Member: $47
EG Member: $39
EG Unl. Member: $34

Make a Wish Total
UPSETS
DEFENCES
Challenger
Defender
Hole
Challenger
Defender
Hole
ProZee [

23

]
Crenshaw [

6

]
13
BigBear (r) [

550

]
Smitty [

26

]
12
Smitty [

26

]
Crenshaw [

6

]
14
BigBear (r) [

550

]
ProZee [

23

]
12
Turtle [

102

]
Shorts (r) [

37

]
15
SlapShot [

104

]
GreenReader (r) [

25

]
13
XTour [

139

]
Shorts (r) [

37

]
16
Eeyore [

122

]
Lucky [

69

]
14
Pouf (r) [

Unr

]
SlapShot [

104

]
18
Eeyore [

122

]
Stymie [

48

]
14
Muirsy (r) [

Unr

]
GreenReader (r) [

25

]
14
Pouf (r) [

Unr

]
GreenReader (r) [

25

]
14
Eeyore [

122

]
Ozone [

22

]
15
Shorts (r) [

37

]
Hacker [

27

]
16
BigBear (r) [

550

]
Crenshaw [

6

]
16
Turtle [

102

]
Hacker [

27

]
17
XTour [

139

]
Hacker [

27

]
17
XTour [

139

]
Turtle [

102

]
18
Smitty [

26

]
ProZee [

23

]
18
Muirsy (r) [

Unr

]
SlapShot [

104

]
18
Lucky [

69

]
Stymie [

48

]
18
Stymie [

48

]
Ozone [

22

]
18
Lucky [

69

]
Ozone [

22

]
18
Muirsy (r) [

Unr

]
Pouf (r) [

Unr

]
18
INDIVIDUAL PLAYER STATS
Slammer
Score
Birds
Eagles
Dogs
Bones
Skins
Bones
Record
Points
ProZee
79
1
0
1
20
0
0
3-0-0
6
GreenReader (r)
79
1
0
0
0
1
26
3-0-0
6
Hacker
85
2
0
0
0
0
0
3-0-0
6
Ozone
89
1
0
0
0
0
0
2-0-1
5
Turtle
88
0
0
1
20
0
0
2-1-0
4
Pouf (r)
88
1
0
0
0
1
26
2-1-0
4
Smitty
81
0
0
0
0
0
0
2-1-0
4
Stymie
88
1
0
0
0
0
0
1-0-2
4
Lucky
90
0
0
0
0
0
0
1-1-1
3
XTour
89
0
0
1
20
0
0
1-2-0
2
SlapShot
91
0
0
1
20
0
0
1-2-0
2
Crenshaw
91
0
0
0
0
0
0
1-2-0
2
Muirsy (r)
97
1
0
0
0
1
26
0-3-0
0
Shorts (r)
96
0
0
0
0
0
0
0-3-0
0
BigBear (r)
99
0
0
0
0
0
0
0-3-0
0
Eeyore
101
0
0
0
0
0
0
0-3-0
0
SKINS
HOLE
1
2
3
4
5
6
7
8
9
OUT
10
11
12
13
14
15
16
17
18
IN
TOTAL
SKINS
PAR
5
4
3
4
3
5
3
4
5
36
4
4
5
4
4
4
3
4
4
36
72
GreenReader (r)
5
4
3
5
3
5
4
4
4
37
5
4
7
4
4
4
3
5
6
42
79
1
Pouf (r)
7
4
3
6
3
5
4
4
6
42
6
8
6
7
4
4
4
4
3
46
88
1
Muirsy (r)
7
3
5
5
4
7
4
6
8
49
4
7
6
5
4
5
3
8
6
48
97
1
ProZee
5
4
3
5
2
5
3
5
5
37
5
4
6
4
4
5
5
5
4
42
79
0
Smitty
5
6
3
5
3
6
3
4
6
41
5
4
5
4
4
6
4
4
4
40
81
0
Hacker
7
4
4
5
2
6
4
6
8
46
4
5
6
4
3
5
3
4
5
39
85
0
Turtle
7
4
5
4
3
6
3
6
7
45
4
7
5
5
5
5
3
5
4
43
88
0
Stymie
5
5
4
5
2
5
5
4
5
40
7
4
5
6
5
5
5
5
6
48
88
0
Ozone
5
4
4
7
3
6
4
4
7
44
5
8
6
5
3
5
3
6
4
45
89
0
XTour
7
4
4
5
3
8
4
4
5
44
4
7
5
5
7
4
3
5
5
45
89
0
Lucky
6
6
3
4
4
7
4
4
6
44
5
7
6
4
5
7
3
4
5
46
90
0
SlapShot
5
5
3
6
3
8
4
6
5
45
6
4
5
6
6
4
4
5
6
46
91
0
Crenshaw
5
4
4
5
5
6
4
4
8
45
5
6
8
4
5
4
3
6
5
46
91
0
Shorts (r)
8
4
3
5
3
8
4
5
7
47
6
5
6
4
6
8
4
5
5
49
96
0
BigBear (r)
6
4
4
8
3
8
4
5
8
50
4
6
7
4
5
7
4
5
7
49
99
0
Eeyore
6
4
5
5
3
7
4
6
6
46
5
8
7
5
6
7
4
6
7
55
101
0
TOTAL
0
1
0
0
0
0
0
0
1
0
0
0
0
0
0
0
0
1
3
Legend
E
Eagle or Better
B
Birdie
P
Par
G
Bogey or Greater
C
Cut-off birdie